The Church

Once the bridge over the Dee was built in Ballater the creating of a village could go ahead. At the centre was the "Centrical Church", replacing the ruinous churches of Tullich, Glengairn and Foot o' Gairn.
The foundation stone was laid in 1798 and the first service was held on 14th December 1800.
Designed by Mr Massey of Aberdeen at a cost of £670 sterling, the building, standing SW and NE was 72ft long by 34ft wide. At the east end was a square stone and lime steeple with an octagonal wooden spire. There were doors at the east and west ends. At each entrance the stair led to a gallery. There were 4 front and 2 gable windows, glazed with ordinary glass. There was a pulpit, sound board, latron (lectern) and stair and rail. Messrs Gillett & Brand of Croydon manufactured the clock in 1879 and the winding mechanism electrified in 1982. In the early 1850s a vestry was added as up to then the minister only had a hook on the pulpit on which to hang his hat! As Ballater prospered its residents increased in number. Royalty came to Balmoral. The "railway boom" brought an influx of visitors. The "Centrical Church" opened in 1800 was no longer felt to be in keeping with the more prosperous image of Ballater so it was removed and another more ornate building erected on the site.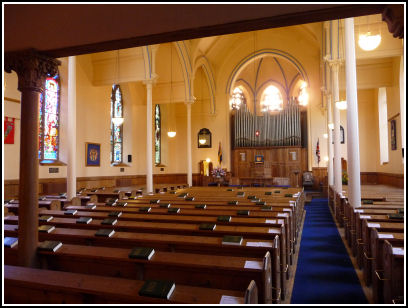 The new Kirk, designed by J. Russell Mackenzie of Aberdeen in 1873, lay at the heart of the village, and still does. It was designed to have seating for 600 with 100 in the gallery. This was usually adequate in the 1880s and 90s, except at times of Communion Services. The chancel was at the west end with pews for the principal Heritor and Manse family in the north and south transepts. Corinthian columns were employed to give greater height and span to the roof. The steeple was at the south-east corner with a stair giving access to a gallery over the vestibule. In 1898 the vestry was extended to incorporate the Hall in use today.
In 1929 Ballater United Free Church united with the Church of Scotland, becoming the North Church, while the church in the square was the South Church. The congregations finally united in 1938. The former Free Church was used as a hall until 1984 when it was sold and converted into a hotel.
In 1980 Glenmuick Church was recognised as being a "building of special architectural and historical interest" and is now a listed building. It is visited by hundreds of visitors, not only for Sunday worship, but also for the appreciation of a few minutes of peace and sanctity within its walls.